Aug. 1, 2013 12:01 a.m.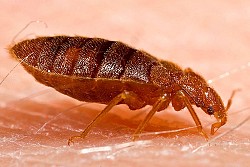 July has been a big month for bed bug infestations this year. If your skin is not already crawling with just the mention of bed bug infestations, here's a list that will make you want to go out and buy a bed bug cover for your mattress immediately.



+A bed bug infestation shuts down two Goodwill warehouses in the Bay Area while San Francisco exterminators treat the warehouses.  See full article.